Newsletter July 2015
Go to the printable copy
Preface
What a season! I'm writing this preface  between two gigantic meetings : Bad Camberg and European Bug In.  With a big smile on my face, as Volkswagen is my thing!
It was fantastic to meet so many people at our Open House (just before Bad Camberg) of so many different nationalities, from  a lot of different continents and different ages, Volkswagen is a perfect hobby from 7 till 97 years and even older!
The summer season is in full swing and the ambience is great…. The VW industry is going at full speed.  Isn't that enough reason to be in a positive mood ? Although the weather in Western Europe might get better….
The  question is of Greece stays whatsoever in the Euro zone and which consequences  that might have on the stock exchange.  By the time you'll be reading this text the effects  will be known… In my opinion a grexit has already been calculated for a long time, definitely in the matter of exchange rates.  So the 'damage' will be rather restricted.  Afterwards the markets will stabilize again. Let's wait if I'll be right. If Greece will concede after all, the same scenario will appear… it's a fact that Europe will show it's colors, a gesture that many analysts and investors are waiting for…so after all it will turn out well …
Much worse is the human suffering, boat refugees or people running for IS terror.  We shouldn't worry about it, but though we must open our heart for so much suffering and misery, why has is to be this way ? And how must it go on ? Is it necessary that one part of the world will be cut off  from the rest ?
Perhaps we aren't aware that we live in  a good part of the world.  We have a job and earn our living, we have hobbies such as maintaining Volkswagens, everything in a pleasant environment… I have no idea why the financial world has a problem with Greece ( a country with just a handful of inhabitants) comparing to the human suffering in the world, but it will be always that way…
In this newsletter you'll find a large package of new products in our assortment.  Price modifications turn out better than previous time (fortunately the dollar is more stable).
We are doing our outmost to forward all orders as fast as possible, pallets should be ready for dispatch within 48 hours, in between packets should leave the very same day for orders made before 11 am.  Within the company we've been tinkering with the work flow…. We should expect results soonest, because we like to write our Service with a capital as always!
A splendid summer and see you on one of the next VW events ?
Bob
New BBT production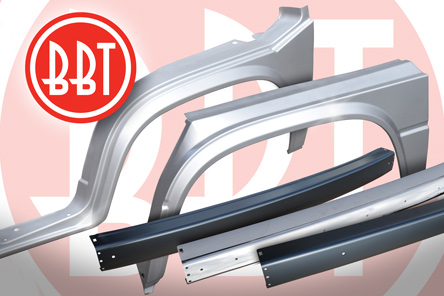 # 0012-855 Bumper front T25 05/79-08/92 (black primer) BBT
# 0012-955 Bumper front T25 05/79-08/92 (chrome) BBT
# 0013-855 Bumper rear T25 05/79-08/92 (black primer) BBT
# 0013-955 Bumper rear T25 05/79-08/92 (chrome) BBT
Price modifications are indicated on the pricelist itself!
No longer available
| | |
| --- | --- |
| # 0492-138 | Gasket (cork) in fuel tap for Porsche 356 03/55-03/66 |
| # 0517-102 | Washer for lower hinge pin vent wing Type2 52-67 |
| # 0612-20 | Taill.lenses 62-67 smoked eco / pair |
| # 0673-1 | Reversing light Type1 52-7/63 |
| # 0880-1 | Complete front inner wheel right original |
| # 0891-680 | Rear lower corner left Type2 68-72 |
| # 1379-102 | Torsion arm lower left Type1 65- Original |
| # 1609-075-20 | Main bearings 0.75/0.50 case (release bearing -2mm) |
| # 1920-250 | Bugpack Spin-tru generator pulley 12Volt , black |
| # 2549 | Vulcan TT wheel rim 6x15 |
| # 2559-100 | ATS black/polished 4-hole 5.5x15 |
| # 7078 | OUTS.WIND.SCRAP.CON.65-79 |
| # 8105 | DZUS spring retainer 10pc |
| # 9429 | Book:VW's of the World |
Price modifications are indicated on the pricelist itself!
Available to special order only
Following items are still available @ BBT but due to low demand they are now available as special order what might be subject to longer delivery terms.
| | |
| --- | --- |
| # 0492-137 | Gasket fuel tap filter for  Porsche 356 03/55-03/66 |
| # 0499-257 | Sign NL 1957 |
| # 0573-53 | 5-Way harness Grey 'CROW' |
| # 0887 | Chassis Type1 08/72- SWING axle/ original Mexico |
| # 1629-79 | Camshaft T4 572 lift/320° |
| # 1952 | Voltage regulator alternator 12Volt 73-74 / Bosch |
| # 2910-13 | Headliner T2 73-74 w.slidingroof/white |
| # 9025-063 | Boot cover Type1 78-79 beige canvas |
| # 9025-064 | Boot cover Type1 78-79 burgundy canvas |
| # 9025-072 | Boot cover Karmann Ghia 58-69 blue canvas |
| # 9200-24 | Headlining Type1 65-70 black perforated vinyl |
New products