Preface
I think I'm going mad. At the end of the year I'm used to read all the prognosis. Not just reading them but most of all remembering and comparing them with next one… it's hilarious, the first says black , the other says white… in our actual economic climate this means that one camp speaks of the end of our economic model and the other party pretends that the best is still to come…
I wish to reply on the latter statement, that we'll face still better times… do I have to understand that our children will get 3 cleaning-persons each? I wonder where we're are going to grab these cleaning-persons, as now it is already a major problem, whereas not everybody has one nowadays. In my opinion Western people will  have to alternate their attitude, otherwise we will head for an army consisting of officers only.  Everybody will feel oneself too good to be merely a soldier… and then ?
I can imagine that you're nodding approvingly, that's the way… but after don't we wish that our children will graduate and be a part of the officer staff and not mere foot-soldiers… If a child has the capacities and the fierceness to study, I'll be the first to encourage and to toast on a brilliant highschool diploma, but when I hear that they intend to facilitate our smart education system in order to increase the chances of success, I will definitely go off. I admit that we are going downhill, far from the ideal understanding of the world where our grandparents as well as our parents worked so hard for, so that we are now doing so well … and we do !
Fortunately we are well protected in the cocoon of our passion. We work in a real niche market, according to our economic model that is not subject to the economic climate. And the niche market keeps turning at full speed. Many people try however to board into the world our vehicle hobby, that is gradually growing to an up to the mark business. In terms of Volkswagen speaking it's incredible how many people are earning their bread in each country with air cooled Volkswagens. It hasn't been otherwise in 2012.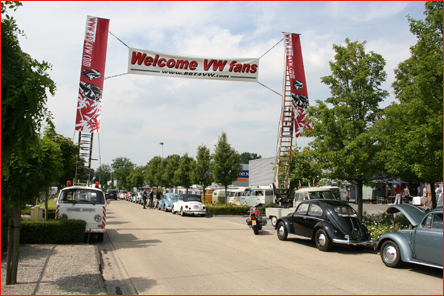 The meeting season, being an important engine to the VW economy will be astonishing in 2013. Hessisch Oldendorf, European Bug in, a new two days meeting in Lubbeek (Belgium) and so much more, always more, always bigger… we'll have to plan carefully how to attend to as many meetings as possible! Even for BBT all these VW events have a surplus value, their visitors are after all potential consumers to be helped!
But there is more…internally BBT is not standing still… major changes in the stock policy and rotation should lead and keep our stocks onto better tracks! We are working hard to order the right quantities, the statistics in excel are flying over the screens, everything should be ready, a serious audit and a strong financial plan, it seems to be a big enterprise here, but then in a nutshell.  BBT is becoming a big boy and who knows,  new challenges? Anyway we're ready for it! BBT wants to please their customers on the first place. In 2013 we'd like to write SERVICE even more in big capitals.. Let's go for it!
We've plenty of good intentions! And that should be the case of course, we are looking back on a magnificent year, a considerable growth, that proves that we pursue the right course and we're ready for the next step, business pur sang, a real challenge, but we're carrying it out!
For the present I wish to thank you customer, supplier, supporter and fan. Thank you for believing in BBT and to support us in 2012. Therefore as token of appreciation we'll exert ourselves for a wonderful 2013. Happy New Year!
Bob
Online tools

BBT keeps working to provide the best service at a minimum of efforts for you, as distributor of BBT parts. Therefore we've started  to facilitate return management, automation of backorders and order list processing.
Some of our distributors have already started to use some of these applications and their feedback seems to be very helpful to get these applications on track. Due to the success of these recently developed applications and addition of some helpful tools we've had to shift over to a new website host service and now we're ready to release the 3 latest developed features.
First application is the return form which will no longer require the need to complete and fax the paper edition return document. You'll only find the fields which are important for you and you get informed automatically by e-mail when your return has been approved and can be returned.
The second feature we would like to introduce is the back-order function (from 14/01) which has been linked to the order processing feature. As you already might know, online stock updates are performed daily and have an high accuracy which guarantee almost correct information. As soon the goods come in our warehouse you'll get automatically informed by e-mail and you can easily add the backorder  item to your  order list. This order list can be sent to our sales department and they will process the order almost immediately.
Last but not least, to make an easy and swift order processing we've created different ways to add parts to your order list (from 14/01). You only need to make sure you've done login to our website. You can add parts to the order list by just tracing them in the online catalogue and add  them to the list. You can add backordered items to the list that were previously in backorder and  have now been announced available again by e-mail. You can just introduce individual part numbers and quantities on the order list. A fourth way to make orders is by uploading them directly into an order list using an Excel file. Don't forget to confirm the order and we'll start to prepare the parts.
We hope these features will be helpful but please do not hesitate to contact us for any further information or help.
Available to Special Order Only (SOO)
Following items are still available @ BBT but due to low demand they are now available as special order what might be subject to longer delivery terms.
# 0060-1 Baja bumper front, chrome
# 0221 Baja side bars low
# 0356 One piece windows -64
# 0499-251 Sign NL 1951
# 0499-367 Sign F 1967
# 1028 'J- tubes' chrome for Type 1
# 1739-05 Valve lash cap 1,27mm (1)
# 2908-101 Headliner T3 SQ.B 61-73 non-perforated/white
# 2910-12 Headliner T2 68-72 w.slidingroof/white
# 5546 Exchange engine 1776 cc
# 8916 Window set 58-64 green
# 9100-60 Hood Karmann Ghia 60-67 black single vinyl
# 9100-70 Hood Karmann Ghia 68-69 black single vinyl
# 9103-60 Hood Karmann Ghia 60-67 black quality vinyl
# 9555 Rosewood door trim
No longer available
# 0289-02 Rubber stop brake pedal Type 2
# 0484 Door hinge covers chrome
# 0492-116 Filter for fuel tap (in tank) Type 2 use # 0492-115
# 0556-21 Sunvisors Type 1 68- pair white/mirror use # 0556-20
# 0848-3 Original undersill left / VW Mexico
# 1329-03 Steering axle left Type1 -65 use # 1329-05
# 1329-04 Steering axle right Type1 60-65 use # 1329-06
# 1338-03 Tie rod right Type 2 -67 use # 1338-02
# 1338-11 Tie rod right Type 2 68- use # 1338-10
# 1602-23 Cro.Mo.5.700 Chevy Rod
# 1701 Piston and cylinderkit 88,00 - mm F.MACH use # 1715-110
# 1721-5 Cylinder head 1600 double port original Mexico
# 1727-2 Cylinderhead 'Max Head' bare 94mm/piece
# 2149-1 Air cleaner box T1 08/72 -> / original Mexico
# 2518 Centercap '+ wheel' black
# 2670 Dash cover 1303
# 2753 Steering wheel 13' 3 spoke polished, black leather
# 2761 Steering wheel 15' 3 spoke black, black leather
# 2792 Boss kit 74->
# 9250 Wind deflector Type 1 convertible
# 9670 F4 Ski carrier
# 9804 F4 Sticker 'Get Power'
Price modifications are indicated on the pricelist itself!