Preface
We are in the last few days before our Open House and the convoy to Hessisch Oldendorf with 275 registered participants, the meeting of Hessisch Oldendorf , many foreign visitors and European Bug In the following week and still I find some time to write this column… Organization, deadlines, these are things that make people move!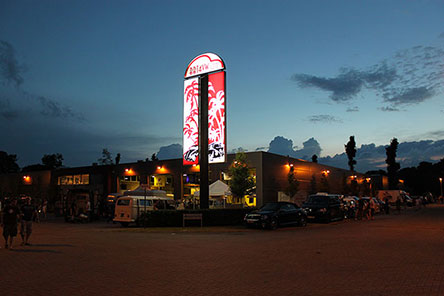 Keep on moving… that's what we like to do in our Vintage Volkswagen world, we do it that well that the gentlemen in Wolfsburg will regret that they joined us too late… Fantastic, but sad too, they do not really follow the path of rewarding education…In other words those among you who still have Volkswagen emblems on their internet page or in their catalogue, be warned! They will intercept everybody with the well-known "German punctuality".  And penalties will be stupendous. But there will be more official canals to obtain VW emblems and like Steve Jobs (Apple) has learned us,  people aren't really thieves, they just want to be able to acquire things at a reasonable price… I Tunes are booming like no other ever since… the alternative... we're working at it. We hope we'll have more news in the next edition.
The oldtimer hobby is going like a bomb. That's cool, I remember the old days that collecting oldtimers wasn't socially very accepted. Luckily things have changed since and now it's looking good to talk about oldtimers at a dinner or reception. OK, we continue…
This time I prefer not to write about the economic depression, although things aren't getting better. Or like I read last week :"there hasn't ever been a depression that wasn't conquered". Very good, we keep moving…
I hope we see you at one of the many Volkswagen meetings this summer… we'll discuss the actual situation with a fresh beer in our hand and then we can cope the entire world!
Enjoy the reading of this newsletter, I wish you all a nice summer and if it will be the case : marvelous holidays.. let the sun shine!
Bob
Available to Special Order Only
Following items are still available @ BBT but due to low demand they are now available as special order what might be subject to longer delivery terms.
# 0318-57 Window molding rear left KG 67-
# 0318-58 Window molding rear right KG 67-
# 0448 License plate frame EMPI
# 0492-137 Gasket fuel tap filter for Porsche 356 03/55-03/66
# 0499-249 Sign NL 1949
# 0499-500 Sign 'I'
# 0556-12 Sunvisors T1 65-67 pair black
# 1023 Bobcat exhaust 'Off Road' 1" 5/8 chrome
# 1087 Heat exchanger 1600cc injection right
# 1088 Exhaust 1600cc injection
# 1338-006 King pin set T2 08/62-07/63 (pair)
# 1596-1 Starter 6 Volt -65
# 1728 Heads street eliminator 94mm 44*37,5
# 1740-1 Valve seats Type 1 - 37,5 mm (4 pieces)
# 1741 Valve seats Type 1 - 40 mm (4 pieces)
# 1963 Remanufactured 6 volt generator
# 2151-500 Okrasa air filter elbows (pair)
# 2907-103 Headliner KG 63-74 non-perforated/white
# 5301 Okrasa kit for 25/36hp with CSP linkage
# 8926 WINDOW SET 72-> GREEN
# 9025-042 Boot cover Type1 72 blue canvas
# 9025-051 Boot cover Type1 73-77 brown canvas
# 9105-73 hood KG 68-69 beige canvas
Product improvement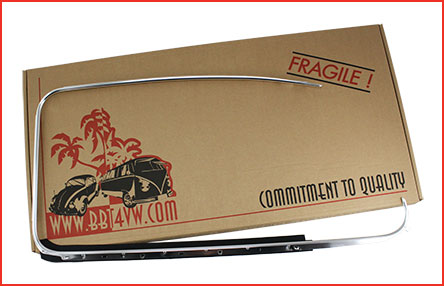 BBT is always working to improve the quality of its range but it is not just the parts that we would like to improve. At BBT we also find it important to make sure that parts do arrive in decent shape at our customers so we also work to improve packaging. Item numbers # 0354 Scraper + molding 65- left and # 0355 Scraper + molding 65- right were always a subject that caused some anxiety. These items are very fragile and do have a  high esthetical value but they get easily damaged. Therefore we've decided to provide them as from now on in an individual stronger packaging than previously. This will cause a minor price increase but we believe this is acceptable when we keep in mind that it wouldn't make you happy when you miss a long scheduled meeting  because you aren't able to finish your beauty in time after receiving a damaged spare part. Quantities per 30 are still available.
Price modifications are indicated on the pricelist itself!