Newsletter July 2014 print
Preface
The start of the Western European summer can definitely be called  nice, hot and cozy.  Life smiles upon us!  
Meanwhile I'm writing this text the Fifa worldcup is going full speed and there is a nice harmony between the supporters in each country.  Great parties,  no quarrels, why can't it be every day that way ?
Our old timer world is smoothly floating on the stream that is always becoming bigger. In general the public loves old cars.  At least if I may believe  the many cars that flash their lights, and people with thumbs up, when I'm on the road with one of my old classic cars. Cars are made for driving and that is just the nicest part, for me anyway…
The season is busy, very busy, especially as the BBT quality labels are appreciated by more and more people. Finally we can  reap the fruits of many years of labour.  It encourages us to continue on this way.  We want to do it right, unfortunately manufacturers don't follow  us all… But our slogan remains; quality at the first place!
The world market doesn't look  so good… the Isis trouble shooting commands are fighting for a  new country… by spreading murder and terror, in the name of their faith. Which religion justifies the use of such violence ?  Shouldn't a peaceful life be nicer ?  Fluctuations are coming.  The increase of the oil price gives me cause of concern.. until today analysts didn't take this fact into account, but it can't  be discerned.  A 10 % increase in one week, is nothing to be sneezed at!  Hopefully the region will calm down.  Stability is a fundamental cornerstone for a steady economy…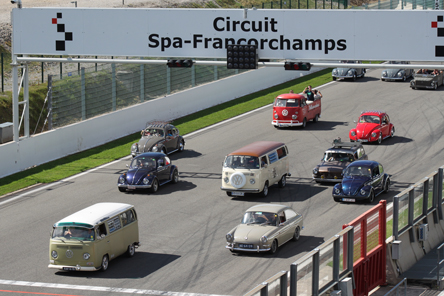 We wish you a splashing summer, don't forget to pay us a visit  in the last Formula 1 box at the 'Le Bug Show' from 1st till 3th August.  A nice chat is always cool! We are expecting you!
Enjoy the summer, enjoy your Volkswagens… Enjoy our most beautiful hobby on planet earth!
Keep the faith!
Bob
No longer available
# 1596              Starter 6 Volt 67-
# 1615-050-18    Main bearings .50/3 case
# 1920-050        Bugpack Spin-tru generator pulley 12 Volt , chrome
# 2090-01          Ignition system/yellow
# 2090-02          Ignition system/blue
# 7522              Outside window scraper left chrome T2 68-79 Use # 7522-5
# 7523              Outside window scraper right T2 68-79 Use # 7523-5
# 8921              WINDOW SET 65-71 GREEN
# 9495-48          Classic VW magazine (Boxertje) Herfst -2013
# 9496-12          Airmighty 12
# 9496-PO-12     Airmighty Portfolio 2012
# 9502              Oil hoses for # 9500 BBT
# 9803              F4 sticker 'RACING STRIPE'
Price modifications are indicated on the pricelist itself!
Available to special order only
Following items are still available @ BBT but due to low demand they are now available as special order what might be subject to longer delivery terms.


# 0499-353      Sign F 1953
# 0499-372      Sign F 1972
# 0499-373      Sign F 1973
# 0539-4         Carpetkit KG convertible 69-74
# 0556-13        Sunvisors T1 65-67 pair black/mirror
# 1480-070      Drive axle T25 05/79-12/82 A/T left
# 1480-071      Drive axle T25 05/79-12/82 A/T right
# 1480-080      Drive axle T25 12/82-07/92 A/T links
# 1480-081      Drive axle T25 12/82-07/92 A/T rechts
# 1629-78       Camshaft T4 546 lift/324°
# 2573-2         Gasburner 5x130 - Black
# 5551            1835CC ENGINE (BQ)
# 9020-012      Boot cover Type1 63-64 white vinyl
# 9103-31        Hood Type1 68-72 off-white quality vinyl
# 9200-01        Headlining Type1 convertible 49-57 cloth
New products
Safari wiperblades rest, one eyed duck
0397-020 Bus -07/67
211 955 231
It's essential to displace first the wiper blades before opening the windows in Type 2 -07/67 buses that have the nice option of Safari windows. This support (one eyed duck) in combination of the wiper arm adaptors # 2471-20 -64 and # 2471-21 65-67 make it possible to position again the wipers with opened Safari window towards the center between the 2 front windows. The support and the sleeve are available separately.
Related products
#0397-021 Sleeve for safari wiperblades rest, one eyed duck
Adjusting screw, left/right upper corner, rectangular headlight T25-Vanagon, each
0613-854 Type 25 05/79-07/92
255 941 141C
Lights of our classic cars should always be in excellent condition. The adjustment of the headlights is such an important part, though we all know that the adjusting screws can cause problems. These screws get damaged due to dust, dirt and humidity and the headlights can't be adjusted properly. The rectangular headlights of T25/Vanagons don't have less problems with it, though as alternative headlights are missing, it is quite important to offer separate parts of the headlights. BBT has now the adjusting screw and contact for the upper corner available from stock.
Battery cover
0637-950 Beetle 10/52-07/55, Porsche 356
111 915 405A
We're proud to announce that we can present again a new BBT part from own production. These battery covers close off the terminals of the battery towards the underside of the rear seat suspension. This protection is often damaged due to corrosion or the battery cover has just been lost in or around the vehicle after a long time of storage while the battery has been removed from the car. BBT delivers now the battery covers made according to the original model each from stock.
Related products
#0637-960 Battery cover
Front grill
0891-985 Bus 08/67-07/72
211 259 261
This front grill can be found on Type 2a buses, where the turn light indicators are located above the bumpers. Those for the T2B model can still be obtained second-hand, as well as new by BBT under ref. # 0891-980. It's quite another story for T2a buses. Partly due to the limited years of production and the increasing popularity of the model, it's very hard to find second-hand items. The rising demand to replace rusted and dented items, made that BBT is working since quite some time to develop a good reproduction. After a lot of trials and testing we've finally the correct fit and finish available. These front grills are available each from stock in a fine quality.
Ribbed floor panel
0892-440 Type 25 05/79-07/92, 380mm x 1500mm
We notice that always more Type 25 buses come into possession of amateurs, where these buses can start a 2nd life. Many of these buses already have a heavy life behind the back and that is just the thing for which they have been made for. These ribbed floors will give these amateurs the chance to repair damaged floor panels and to transform them back to a good state.
Related products
#0892-450 Ribbed floor panel, pick-up
Heatingtube set
1097-500 Bus -07/67
Usually these heating tubes suffer heavily from corrosion or they felt simply from under the vehicle after more than 45 years of loyal service. You don't have to look far for the cause. Due to the assembly underneath the car, these tubes are in touch with humid conditions and in certain regions road salt can harm them. A good functioning heating is nevertheless indispensable in many regions if you wish to enjoy your classic car for a longer period in the year. These heating tubes will help many 1956-1967 Splitbus fans with a correct replacement. The tubes are sold in a set, suitable for repair of the complete heating tubes system that is located underneath the bus and inclusive the rear T-part till the cabin floor inlet.
Washer on radius rod
1378-510 Type 25 05/79-07/92
251 407 069
This washer is essential to accomplish a good and precise assembly and adjustment of the front radius rods with T25 buses. The corroded or damaged item can now be replaced without problems by this well-made reproduction. You need 4 washers for 1 vehicle. BBT has them now available each from stock.
Distributor cap for 40hp ZV/Pau R1 - R2 - R3 - R4 - R5 - R6, diameter 90mm
2005-050
113 905 207
BBT already has a large range available of new as well as NOS distributor caps and rotors. The NOS stock of certain versions is meanwhile quite low, therefore we have taken certain types new in our assortment. This distributor cap and rotor is used on Type 1 and Type 2 1960 - 1965 with a current distributor with a large diameter, 90 mm, type ZV/PAU R1-R6. BBT delivers them now in a good reproduction each from stock.
Related products
#2007-150 Distributor cap Rotor for 40hp ZV/PauR1 -R2 - R3 -R4 - R5 - R6, 90mm distributor cap
Emulsion tube F-7
2195-07
Wever IDF carburettors are very popular with fans of heavy duty. BBT has a vast range of jets available so that they can achieve the most suitable fuel composition. Until now we had only 1 emulsion tube for sale, but upon request of a couple of customers we have now also an alternative available. For each carburettor there are 2 pieces in use.
Gauge mount bracket 1 hole, 52 mm, black
2602-901
If you wish to install some additional gauges, you can save now the original dashboard of your classical car by using these gauge mount brackets. It's no longer necessary to make some perforations in the dashboard. These gauge mount brackets are available for 1, 2 or 3 gauges with an assembly diameter of 50mm. If you wish to install the gauges even though into the dashboard, our item numbers # 0525-610 till # 0525-630 are an adequate alternative.
Related products
#2602-902 Gauge mount bracket 2 holes, 52 mm, black
#2602-903 Gauge mount bracket 3 holes, 52 mm, black
Gearbox oil
8512-010 Castrol Syntrax EP 80W-90, 1l
Maintenance services are is indispensable to drive safely. A regular maintenance consists as a rule in engine oil change, ignition point adjustment, inspection of wipers etc… but also checking the gearbox oil are a part of the list. You won't get far with a dry gear box, so regular control and refill are necessary. You can lose a lot of gearbox oil when you replace broken axle boots, leaking rear wheel gearbox oil seals and with Type 2 -07/67, repair near the rear axle reduction boxes. VW prescribes that gearbox oil should be replaced after 12.000 km (1958) and with more recent models after each 50.000 km. You need 2,5 till 3,5 liter for a complete gearbox oil change, depending on the Type.