Newsletter October 2017 print
Preface
Exactly one year ago I was writing about the presidential elections in the USA and look where we are standing today! A world that has been split and, a world that polarizes and divides. Politics means unifying and not dividing. Isn't it sad that it has to end this way on our blue globe, that we call planet earth ? Let's hope there have been enough wake up calls and that people will realize that politics is something different than running a company… In the meantime France has given a good signal during the elections, whereas the United Kingdom are stuck with the 'Brexit'. We're looking forward to the elections in Germany. Will "Mutti" Merkel keep sitting firmly in the saddle and most of all, will she be enough innovative after being the 'Bundes' chancellor for so many years?
All this together with de sad early autumn weather in Western Europe , it doesn't cheer you up… but when I look at the left behind my shoulder I look into the hall with plenty of Volkswagens that smile to me, anyway how can I still be angry. I sometimes think that they all get along, oldtimers remain a cool hobby (in my case an real life achievement) and old Volkswagens are dashing beautiful. It's not a shame to reinvent oneself and one's hobby, is it ?
And the oldtimer hobby just continues. When I look at the latest sales results of big oldtimer auctions in America, there is clearly no real correction, which has been predicted by many people. Although.. not yet…Though there is something flagging on the market and that comes simply by WHAT has been sold and WHO that buys. If you really want the invest in oldtimers, buy the real stuff, cars (or motorcycles) with a high pedigree, well documented, real stuff, not almost original or fake, or things that are somewhat doubtful. Real cars are their money worth, clones and wannabees will fall out sooner or later. Invest your hard-earned money with intelligence.
And BBT will continue to deliver parts, we'll keep working for better products. At this moment we've samples at dozens in factories all over the world to examine the possibilities for the best reproductions. Fedex and DHL are making a lot of money, simply by carrying our samples all over the world. When a certain part is ready and the first production arrives at BBT, we are just very proud. We are expecting a lot of plating work for buses for the next months in upmost quality (well pressed not pleated) but also some smaller stuff such as fuel pump flanges, caps for front wheel bearings or engine suspensions etc. . You just can't imagine it or we've being occupied with it… Is there something that's bothering you ? Something missing or that is according to you lacking on the market ? Your ideas are always welcome, perhaps you can give us some inspiration or motivation ? We'll be happy to hear it!
I hope that this newsletter will come across in a more positive way, than the political crap that we've heard the previous time and that we may build together for a better Volkswagen (parts) world.

Bob
New BBT production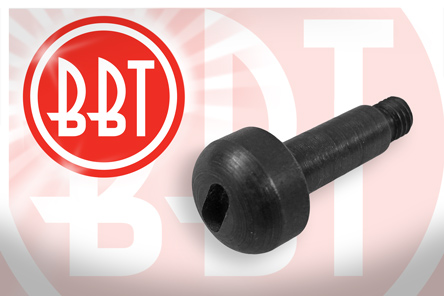 # 7670-016 Sliding door lock button - Bus 08/84-08/92 BBT


Price modifications are indicated on the pricelist itself!
No longer available
| | |
| --- | --- |
| # 0012-950 | Bumper front, chrome |
| # 0625-60 | Tail light, left or right, white, economy, each |
| # 1601 | Crankshaft Type 1 13/1600cc |
| # 2605-02 | Fuel level 'Sport Comp' |
| # 2605-03 | Oil temperature 'Sport Comp' 60-170°C |
| # 2605-04 | Oil pressure 'Sport Comp' 0-7 Bar |
| # 2627 | Oil-temperature Sport Comp 40°-120°C |
| # 6000-300 | Key ring with bottle opener the design of the VW Beetle red |
| # 6290-021 | Sticker L 70 F, Chinchilla |
| # 9103-90 | Convertible outer hood, Original quality vinyl, black |
| # 9490-01-03 | Volksworld |
| # 9490-08-02 | Volksworld |
| # 9490-09-02 | Volksworld |
| # 9490-11-02 | Volksworld |
| # 9490-12-02 | Volksworld |
| # 9491-21 | Total VW |
| # 9491-22 | Total VW |
| # 9491-23 | Total VW |
| # 9491-27 | Total VW |
| # 9491-29 | Total VW |
| # 9493-132 | Super VW |
| # 9493-134 | Super VW |
| # 9493-135 | Super VW |
| # 9493-136 | Super VW |
| # 9493-137 | Super VW |
| # 9493-140 | Super VW |
| # 9493-141 | Super VW |
| # 9493-145 | Super VW |
| # 9493-146 | Super VW |
| # 9493-151 | Super VW |
| # 9493-176 | Super VW |
| # 9493-177 | Super VW |
| # 9493-203 | Super VW |
| # 9493-208 | Super VW |
| # 9493-210 | Super VW |
| # 9493-213 | Super VW |
| # 9493-214 | Super VW |
| # 9493-215 | Super VW |
| # 9493-217 | Super VW |
| # 9920-010 | T-shirt (Medium) |

Price modifications are indicated on the pricelist itself!
Available to special order only

Following items are still available @ BBT but due to low demand they are now available as special order what might be subject to longer delivery terms.

New products
Horn grills (pair)
0408-020 Beetle -10/52
113 853 641 (x2)
Up to October 1952 Volkswagen used different round horn grills instead of the later oval ones. These round horn grills are very specific for your split window beetle. We carry the perfect reproduction, that has a finishing very close to original. The best horn grill your money can buy! Sold a pair.
Screw door centerwedge (pair)
0438-315 Bus -12/63 Beetle -01/53
N 14 2331 (x2)
In the early fifties there was not a lot of Philips screws to be found on our Volkswagens… some exceptions could be found for the door hinges to the body and… for the center-wedges… because of finding good originals was a big problem we decided and stepped up and "arranged" to make this a stock product! Now available from our stocks, to mount your rubber door-wedges bug & bus! Mount them now exactly like it should, with original type of screws…. get yours from your local BBT dealer now!
Ventwing lock left
0517-250 Bus 05/79-07/92
171 837 657A
T25/T3 vanagon buses are important to us, and vent wings should be able to get locked in these winter months. Therefore we offer now brand new vent wing locks to close that vent wing properly and like original!
Sunvisor, white, pair
0560-900 Bus 05/79- 07/92
251 857 551A + 251 857 552A
Used sun visors are always dirty, bend and deformed, or simply missing! Since a long time we've most a large range of sun visors in stock. Now we've extended our BBT line of sun visors with these perfect and very original looking quality sun visors for all T3 buses and pick-ups…. Give that Vanagon, T25 or T3 or whatever you want to call it a brand new pair of sun visors. Your interior will look so different at once. Sold a pair….
Bulb H4, each
0661-155 6 Volt 60/55W
Shine…. shine the light! Now also with 6 volts!!! Bright light from this incredible "Fake" Halogen "H4" bulb to fit your original headlights! Now we finally can see where we drive also in dark….:)
Seal under outer sliding door handle
0723-610 Bus 8/73-7/79
211 843 711P
Small round rubber between your door handle and sliding door on your late bay window. Fits all models which have the key barrel under the handle (Key lock not integrated inside the handle). It gives a nice touch and protects your body and paint. A must have and must install on any of your late bay window buses…
Seal under outer sliding door handle
0723-620 Bus 05/79-07/84
251 843 711
This is the little seal that fits between the door handle and the door it elf on sliding doors from your beloved T25/T3/Vanagon bus. Finish that car like it should and give it the good looks (and protection!) with these little necessary seals….. both models available.
Coat hook Deluxe
0784-740 Bus 03/55-07/63
241 857 635
This neat little accessory was original installed in your Deluxe bus from 1955 up to 1963. This little cute extra always intrigued me strongly as it was almost always broken or missing, I tried to collect as many as I came across over the years but never came very far! Finally we have these back available so you can finish that beautiful interior in style!
Battery bracket top - Auto Craft
0891-478 Bus 08/67-07/79
Battery brackets for your bay window. Keeping your battery nicely secured in place is not only mandatory by law. It also helps to the long life of your battery, and prevents short-circuits and such! So more important as you might think at first it is. To secure the battery you need the proper bracket, well now we offer the perfect solution for that bay window bus….
Elbows heatexchanger to heaterflap Type4 (Pair)
1080-450 Bus 08/71-07/85
071 256 051 + 071 256 052
You can find these "elbow" pipes  in the front of your engine (in driving direction ) between your heat exchanger and the heater control flap (that is connected with a cable to your dash control levers). Good condition of these elbows is mandatory to make your heater system work as it should be. We're happy we have found those parts now and added to our ever-growing program to keep your Volkswagen on the road! Sold per pair with a perfect fit on all of your aircooled Type 4 engines in your Bay window or T25/T3 vanagon bus!
Hog Rings (50 pieces)
1160-100
We used to sell the hog ring kit including pliers for a longer time under BBT ref 1160-000, but once you have the pliers you will only need the hog rings to place the seat covers on your beloved Volkswagen. So from today you can also buy these set of hog rings separately, without the pliers. We sell them in sets of 50 pcs.
Non returnvalve brake servo
1208-600 Bus 08/70-
191 611 933
Work on your safety! This little valve keeps the vacuum to your servo when your engine stalls, so your servo keeps working (and let you brake normally) when your engine stalls… You'll find this valve between your vacuum line right behind your inlet manifolds. Make sure yours is in place and works fine or replace with BBT's perfect reproduction.
Bushing with clamp upper steering column (SWT)
1370-555 Bus 03/55-07/67
211 415 637A + 211 415 631A
Another top quality part that's many times missing on many split window buses. This ring and rubber connect your steering column to the pad that attaches the whole to your dash pod. When it's not missing, there is a big chance that the rubber is too hard or totally worn out… this is your perfect solution.
Piston and cylinder kit 30 DIN Hp (36 SAE) - 80x64mm 1286cc - (4pcs) - AA performance
1715-055
111 198 057B
Soup up that old bug! This big bore Piston & Liner kit for your early engine that fits right in the "Old Speed" rage that's coming up… what's next? Fast old cars with fast old technologies…. yammie! Nothing better than that old style looking engine under the engine lid… pure vintage! Get that old chicken running! Pistons in this kit are hypereutectic. This is a relatively new process of aluminum casting where the aluminum has a way higher grade of silicone to allow way tighter tolerances… a complete explanation about this  can be found very very clearly on Wikipedia. This Bigbore kit will turn a stock VW 36HP 1191cc into a 1286cc The pistons were designed to work with a 69mm stroke crank, giving you the ability to make a 1387 with all the parts available on the market..This kit does require machine work on the cylinder heads and case both will need to be opened to accommodate the bigger bore without affecting the reliability.
Nut cooling fan - Type1 engine
2209-104 12/13/15-1600cc
111 119 141A
The back of your generator holds your cooling fan, or at least that's on your Type 1 engine that way. We offer now the nut that holds the fan in place on your generator! Very specially designed nut that VW used almost forever on all Type 1 engines. Get your replacement now.
Engine lid spring
2303-100 Beetle -04/55 (-ch 1-869 850)
111 827 331
The wide spring is back! 100% exactly like original this can serve your highest original restoration projects… The spring for the engine was wider till 1955 than the later ones, which made these"wide springs" a really wanted object on swapmeets and used parts websites. Now we offer  the perfect solution with this top notch reproduction.
Beauty rings 'Flat4' 15" 5-lug (set of 4 pcs)
2535-100 Beetle, KG 10/52-07/65
These state of the art beauty rings are just marvelous! Fit perfectly and look exactly the real deal, exactly like original accessories beauty rings from back in the day!
Fuel gauge (grey)
2655-200 Bus 08/67-03/73
211 957 063
After the speedo was the fuel gauge undoubtedly the best invention on your dashboard…. without gas your car don't drive!…. We're very proud now that we can offer the grey face fuel gauge for your beloved early bay window bus. Many times these get broken, or the resistance just burns!
Dash grab handle - black
2675-150 Bus 08/67-07/79
211 857 643B 041
This dash grip suffers a lot from "sunburn" or pets! We have a lot of requests and now we offer you the solution! Exactly like original this fits all bay window buses….
Ceramic Type 1 4 in 1 header + S.Q.P. muffler 13/1600 - Tri-Mil
3290-500
After Bugpack was sold to Empi we came to the end of our economic header system from Bugpack after going through all of our stocks. Because Empi does not supply the quality we like, we teamed up with Tri-Mil for a good quality-price sports exhaust line in our economic range. Tri-Mil is a long time in existence exhaust manufacturer and is very happy they have with BBT now a very strong distributor for the European market.
Coolant bleeder valve 1900cc WBX
4253-200 Bus 04/83-07/85
025 121 082
This bleeder valve can be  found on your Vanagon T25/T3 bus, when it's powered by a WBX engine (water boxer). It connects all of your water hoses on top of your engine, and "bleeds" all air out of your water circuit… The quality of plastic from the eighties wasn't that great and most of these valves are broken or about to be. So now we 're proud we can offer this part  in a superior than the original quality to keep your WBX Vanagon on the road for many years to come!
Clip Inside window scraper
7527-500 Bus 08/67-07/79, type 3
211 837 475A
The inside window scrapers have been attached with these clips in every bay window bus doors. The originals are mostly completely deformed after dismantling so they will need replacement. We, @ BBT, offer now the perfect quality replacement with the only right model of wiring to get a perfect fit… anything else will NOT fit properly, period. Ready on our shelves for delivery to you!
Sliding door lock button
7670-016 Bus 08/84-07/92
251 843 670A
The most stupid small things can be the most annoying! This little part is not different. To lock your sliding door from your late T25/T3 bus can be getting pretty challeging from the inside without this little necessity! Is yours broken or missing? We have the solution right here!
Horn button for Banjo steering wheel - Ivory
9583-000
These Banjo horn buttons are exactly like original.