Newsletter July 2016 print
Preface
Just back from California spending one week of Volkswagen fun!  Nevertheless I've got some mixed feelings about certain meetings. Some gatherings are past of the high point, whereas a couple of new or more recent events are booming. Dynamics is the key word to  meetings where a real 'ignition' power has been inserted.  They go at full speed.
Meetings and gatherings are crucial to our (VW) industry. Without them there wouldn't be many old Volkswagens driving around and  furthermore they are a fine reason to achieve the  deadlines!
You can compare it with our market segment. Good management and dynamics can make the difference between a fine working VW shop or a bad going shop…keep the spirit and be creative,  those are the only advices I can give you!
There are several big VW events scheduled. We'll have a stand on Le Bug Show at the historical race circuit of Spa Francorchamps. I hope we'll meet each other on one of these occasions. Chatting among Volkswagens is always a nice thing to do, isn't it?
Keep the VW faith!
Bob
Pricelist news
As from 1 July  2016 prices may be adjusted in between, resulting from the fluctuating world market (exchange rate, change of supplier, production etc.). We'll do our best to maintain prices  stable for 3 months whenever possible, but we prefer to increase our prices instead of  stopping delivery of certain parts.  The new prices will immediately be modified  in our web shop.  This implies that the price of a product in our web shop will always be applied. Of course, we'll do our upmost to prevent price increases, though sometimes we do not have another choice. 
We thank you for your comprehension.
New BBT production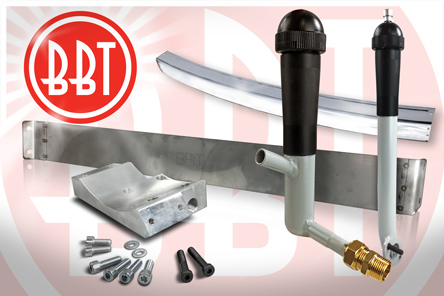 # 0012-956  Bumper front T25 05/79-08/92 (chrome - w/o bumper strip)
# 2161-500  Mounting kit for Porsche cooling Type 1 engine
# 2161-550  Oilfiller for Porsche cooling Type 1 engine
# 2166-550  Oilfiller with dipstick for Porsche cooling type 4 engine

Price modifications are indicated on the pricelist itself!
No longer available
| | |
| --- | --- |
| # 0158-50 | Door left new 68- |
| # 1007-1 | Single muffler Quiet pack |
| # 1013-10 | Muffler 'Hide out' |
| # 1019-1 | Muffler 'California' |
| # 1043 | 'Quiet Baja' with black oval muffler |
| # 1044 | 'Dual Baja' muffler, upwards, black |
| # 1045 | 'Dual Baja Tuned' exhaust |
| # 1610-0-20 | Main bearings std./0.75 case (release bearing -2mm) |
| # 1614-0-18 | Main bearings std/ 2.5 case |
| # 1614-0-21 | Main bearings std/2.5 case |
| # 1724 | Heads street eliminator  85.5mm 40*35.5 |
| # 9402 | Book:How to modify Beetle |
| # 1098 | Exhaust isolation wrap |
| # 1117 | Valve guide drill bit 8mm |
| # 1524-15 | Cross shaft kit (Race) Type1 61-70 |
| # 1619-125 | Rod bearings 1.25 |
| # 2539-514 | Greenline wall ring 14" (4 piece) |
| # 2550-1 | Empi 8-spoke 4-lug anthracite |
| # 2617-1 | Autometer 5'silver 10000rpm + switch lamp |
| # 2617-3 | Autometer 5'carbon 10000rpm + switch lamp |
| # 2617-4 | Autometer 5'cobalt 10000rpm + switch lamp |
| # 2617-5 | Autometer 5' C2 10000rpm + switch lamp |
| # 2625 | Autometer watertemperature 2 5/8 |
| # 2627-1 | Autometer oiltemperature sender |
| # 2630 | Autometer Volts 2 5/8 |
| # 2649-01 | Autometer shift lite lenskit blue |
| # 2649-03 | Autometer shift lite lenskit red |
| # 2680 | Speedo face ->10/52 |
| # 3037 | 92mm cylinder shims .180 set |
| # 3235 | Low dual cannons |
| # 3241 | Comp.exhaust 1 5/8 w/stinger |
| # 3242 | Competition exhaust 1 3/4 w/stinger |
| # 3261 | Muffler 'Mondo' for #3241 |
| # 3271 | Comp.exhaust 1.5/8 ceramic |
| # 3275 | Ceramic S.Q.P. muffler |
| # 6000-200 | Key Rings with the design of the VW T1 Bus 3D - red |
| # 6000-201 | Key Rings with the design of the VW T1 Bus 3D - blue |
| # 0616-50 | Turnsignal lens left Type2 08/63-07/67/ Orange use # 0616-52 |
| # 1525 | Cross shaft bushing kit 16mm use # 1527 |

Price modifications are indicated on the pricelist itself!
Available to special order only

Following items are still available @ BBT but due to low demand they are now available as special order what might be subject to longer delivery terms.
 
New products
Bumperguard - each
0009-950
Bus 07/67-08/72
211 707 155B
We managed to stock now the bumper guards for your early bay windows! High demands for used parts forced us to take this product in stock as a brand new article… You can either buy the bumper guards separately or together with the bumper guard protection rubbers. Or if your original bumper guard protection rubbers are worn out you can replace them with ours!
Bumper front, 2,3mm, chrome - w/o bumper strip
0012-956
Bus 05/79-08/92
255 807 111B
Complete sunroof assembly without rails
0385-905
Beetle -55
This complete sunroof assembly should cover all your needs in case you have a VW beetle with ragtop roof but don't have a mechanism, or if your mechanism is not very usable anymore… This kit is all complete including hardware to mount that cool ragtop back together! Exactly made like original, 100% quality guaranteed!
Side pop-out frame aluminium
0397-150
Bus -08/67
Split window bus pop outs do rust, we all know that. BBT now comes up with an aluminum frame to replace the old worn out steel ones… fits like original! Comes will all necessary hardware.
Rear hatch lock w/keys - Chrome
0429-400
Bus 03/55-08/63
211 829 231A
This T-latch looks just the same as the T-latch of an old beetle engine lid, however it is completely different. Hereby you'll find the correct BBT latch for the rear trap of your VW bus built between 1955 and 1962 (with a "small" rear trap). The nut to secure the latch is available under BBT ref. 8731-06.
Screw for cargo door lock rod
0436-515
Bus 03/55-07/67
211 841 681
This screw is elementary to finish your cargo door lock mechanisms like it should… very typical in form and size. It  can't be replaced with any regular screw to secure locks. BBT has now the correct screws for you available from our shelves….
Seal for fuel sender
0493-990
Beetle 1302/03
Bus 08/73-07/92
113 919 131A
Seal between the fuel floater and the gas tank for the later years of the air-cooled crew. A dry or broken seal can give you a lot of gas odor inside the car, dangerous (gas burns you know) and not very nice neither!
Trimplate doorhandle inside, Chrome - each
0524-635
Bus 08/68-08/72
411 837 097
After years of supply of only used trim plates we're proud we can deliver the chrome surrounding trim plates for your inner door handles for early bus brand new out of our stock, also the small inner finger plates are available new  from the BBT shelves. These trim plates do also fit on all VW 411 and 412 models and VW Porsche 914 built 1973 and up.
Rubber small black strip between front seats, Walk-through
0538-846
Bus -07/67
261 863 753C
This small rubber strip sits vertically between the cab floor and the raised upmetal "walk through" section.
Side reflector lens and seal front - Orange/Chrome
0616-670
Bus 08/67-07/70
211 945 555 + 141 945 559
European model Bay window buses didn't had side reflectors, but all bay window buses made for US export needed to have them. As more and more buses are being imported from all over USA into Europe the demand for the almost always broken reflectors grew very fast in the last few years. Therefore we're very proud we can present  a whole line of reflectors to replace your needs.
Interior light switch - black
0636-110
Bus 03/55-07/67
211 947 511C / 211 947 511D
Many times missing…. this is the switch on the left side in your dash pod on all Splitwindow buses (except barndoor)
End cap on intrerior trim B-post left - white
0784-700
Bus 08/67-07/79
211 867 303
Master cylinder crossmember (LHD)
0890-615
Bus 03/55-07/67
211 703 029C
Guide tube through chassis for rear shift rod
0890-690
Bus 50-07/79
211 711 195
These tubes from Auto Craft are located under your splittie to ensure that all cables are properly guided in the way they should. Available now from the BBT HQ shelves.
Brake fluid reservoir
without Servo
1257-249
Bus 08/68-07/72
211 611 313G
Bay window buses have a double brake fluid reservoir, one of them is placed directly on the master cylinder which is connected with a higher placed 'filling' reservoir. These reservoirs are nowadays often hardened and weary mainly resulting from the quality of the plastic used in the seventies in combination with the influences of a strong product such as brake fluid. Now we have a perfect alternative for the reservoirs placed directly on the master cylinders and you can replace your old reservoir by a complete new one for a safe brake feeling!
Groundstrap for steeringbox coupler
1369-150
Beetle 08/64-
Karmann Ghia 08/64-
Type3 08/69-
Type181 08/70-
111 971 246
This ground strap makes sure the ground stays connected to your steering column all over your steering coupler, necessary for a proper working horn. Maybe you don't live in India or Indonesia where horns are 100% necessary to survive in traffic, but a proper working horn is always a very nice feature on ANY car. Or as my quote always says; when the horn works the car must be ok!
Gear selector guides - 5-speed - pair
1409-260
Bus 08/82-07/92
251 711 173C (x2)
If you have a 5 speed T25/T3 Vanagon you'd better make sure these gear selector guides are in a good or perfect condition and fit. These babies adjust the play in your gear shift (mounted down below next to the gearshifter) and make sure you can't go too far left or right and all gears shift well… worn out or missing? No problem, BBT offers you the perfect replacement part!
Gearbox (002) - rebiuld
1491-550
Bus 08/67-07/70
With the lately bus craze and after long demand by our customers, BBT finally does stock rebuild gear boxes for Bay window buses now… just available straight from our stocks. Made by the famous Rancho Transmission rebuilders from Fullerton, California. Rancho has made thousands of VW transmissions and is considered by many to be absolutely the very best of VW transmission builders in the world. We already sell their Beetle transmissions fore more than 20 years and never had any problems that couldn't have been solved…
Straight cut cam gear
1624-2
Type 4
Especially for competition engines. Reduces the resistance. The gear wheel of the camshaft is adjustable to accelerate or to delay a few degrees with regard to the crankshaft.
Distributor cap high (TQ)
2005-250
08/69-
113 905 207C
Inner seals for fuel injector - 4pc
2125-500
311 133 261A x 4
We like to introduce the seals that sit over and under the fuel injector. They will fit on each Bosch fuel injection injector used on a classic Volkswagen, Beetle, Bus, Type 3 and Type 4 models. With the recent import of many late bay window buses is the quest for fuel injection parts  rising up. We try to find as much as we can, this is for sure a nice addition… a must to have in stock for every self respecting Classic VW workshop!
Mounting kit for Porsche cooling - BBT
2161-500
Type 1
To mount the BBT Porsche conversion ref 2160/2165/2169 you will need some extra parts to make your engine work properly. We  used to have these parts in the shop, but now we've decided to make proper part numbers so that they figure  in our catalogues and wholesale program. Available from our shelves for everybody…
Oilfiller for Porsche cooling
2161-550
Type 1
Air jet, Weber IDF
2193-195
Ø 195
Fuel jet, 170 IDF
2194-170
Ø 170
Exhaust - THING 'Vintage Speed' with pre-heat risers / Stainless steel
3280-400
Type 181
We're proud we can finally offer a perfect alternative exhaust for your 181. Thing, Acapulco, Trekker or whatever you want to call the Volkswagen type 181 leisure car. The exhaust is made by Vintage Speed and offers the same quality and fit like any other Vintage Speed exhaust. Nice quality and good looking too! Finally the perfect solution for your "Thing" exhaust issues!
Windshield frameholder on front hood / 3-piece kit
7320-100
Type 181
181 847 445 + 459 + 449
Lower bracket with roller for slidingdoor
7670-050
Bus 05/79-07/92
251 843 406A
Bentley Manual Type 11/14/15 - 1952-57 (English)
9390-010
These manuals are essential to get your data correctly and to see "how to"… They are the perfect guides how to work or maintain your cars… available for Type 1 (beetle), Type 2 (bus) and Type 3 Volkswagens… they will  surely help  to "keep your legends alive"