Newsletter January 2017 print
Preface
30 years …and counting.

Yes indeed! BBT exists for 30 years… it deserves a small applause, that we are still doing it for so many years. Exactly 30 years ago I was waiting for my very first delivery from California. 3 pallets from Johnny's Speed & Chrome… I had rebuilt the entire garden house… A garden house that a couple of months later, would already become too small.  After two years of garden house, we moved for 4 years to a stable.. that apparently even sooner would become  too small too. And then we built our first building in the industrial zone, that would be used for more than 18 years and where we controlled the flood of spare parts. In April 2017 the BBT circus is located for about 6 years in our 'new' location… 4200m²…. and again I hear sometimes voices that there is 'no place'. The big BBT circus is doing well and we are very proud about it...But in the first place we wish to thank you all, being customer, supplier or just fan. Thank you all that our dream became reality...Many thanks, thanks, thanks!

And then we close the door of 2016... There is no need to look back, 2016 was a good year, even an excellent year, or as our friend of the house Fred would say: it has been a great year in our big Volkswagen paradise.
Welcome to 2017 and happy New Year for everyone! A year plenty of challenges, a year of Trump and the execution of the Brexit. A year that we should stick together to fight against extremism and populism. A year where we will work hard, a year where there is much to happen, that's for sure!

2017 will again be a fantastic year for BBT.  We'll strive for a better service to you, to improve the flood of parts and in June we'll organize again  our Open House and convoy. But 2017 will be above all a year that we'll develop our cyber targets… there are great things to happen in the BBT cyber zone…IT co-workers, intern as well as extern, are working at full speed.  Our new platforms are coming and that will be our first new medium for 2017. We all,  BBT and you as customer or supplier will definitely have to adjust, but even on short terms the improvements should be tangible for all of us.

A new medium, a new start. After 30 wonderful years, we're just continuing what we are doing for all these years. Things in which we are good at and that we still do with pleasure. That our anniversary motivation may coincide with the beginning and all our good intentions for a fantastic 2017.  That's a nice gift for you as well as for us.

With all my heart I wish you a happy New Year, much work and in good health!  We are ready for it, you too?

Bob
A few words from the accountancy department
2016 is almost over and now it's time for presents, best wishes, sitting together with the family at the table for the Christmas dinner.
Since a couple of years our company is supporting a good cause in our neighborhood. It isn't different this year: http://www.coda.care/ that is enabled thanks to you. We're happy to inform that our budget for Christmas cards and presents will be donated entirely to this incredible organization. CODA is a progressive center for palliative care. The name and fame is made by a team of very enthusiast co-workers and upmost motivated volunteers! Now we're sure that our budget will arrive directly at the proper place.
In the name of CODA we wish to thank you very much for our relationship during last year.
Arlette
Christmas closure period
We herewith announce that our wholesale department as well as our shop will be closed from Monday 26 December 2016 until Monday 2 January 2017 inclusive.
We will be again at your entire disposal Tuesday 3 January 2017.
New BBT production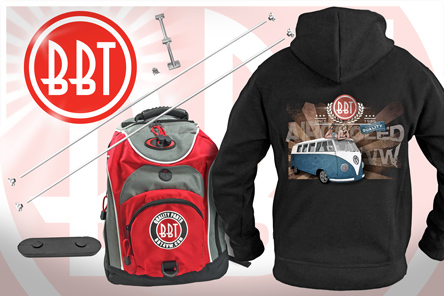 # 9970-000  BBT backpack
# 9941-020  BBT Hoody Black (Medium) male
# 9941-030  BBT hoody Black (Large) Male
# 9941-040  BBT hoody Black (XLarge) Male
# 9941-050  BBT hoody Black (XXLarge) Male
# 0564-375  BBT Jailbarkit rear window T25 05/79-08/92
# 7485-060   BBT Buffer under front seat Type 2 08/60-07/62 



Price modifications are indicated on the pricelist itself!
No longer available
| | |
| --- | --- |
| # 6450-100 | Interior panel set Type 2 Westfalia Helsinki (8pcs) |
| # 1013 | 4 in 1 collector for 1300-1600cc |
| # 9496-19 | Airmighty 19 |
| # 9496-24 | Airmighty 24 |
| # 2610 | 'Autometer 5' 10000RPM |
| # 2605-05 | 'Autometer watertemperature 52 mm |
| # 9950-000 | BBT knitted beanie |
| # 9359 | Book : DUNE BUGGY HANDBOOK |
| # 9431 | Book : VW Transporter |
| # 1248-200 | Brake caliper T25 08/85-07/92 left ATE |
| # 1249-200 | Brake caliper T25 08/85-07/92 right ATE |
| # 3270 | Ceramic header 13/1600 |
| # 3240 | Comp.exhaust 1 1/2 W/Stinger |
| # 2032-000 | Ignition wires 8mm S/S brainded Type 1 |
| # 6450-000 | Interior panel set Type 2 Westfalia Berlin  (7pcs) |
| # 6290-011 | Sticker L 360 |
| # 6290-005 | Sticker L 50 K |
| # 6290-031 | Sticker L 51 P |
| # 0626-410 | Taillight bulb holder (4-filament) Type 1 52-55 / pair |
| # 0626-300 | Taillight bulb holder (single) Type 1 -52 / pair |
| # 0390-103 | Winddeflector for sliding roof Type 2 - green BBT |
| # 0216-2 | Running board mat turquoise right |
| # 0216-3 | Runningboard mat blue right |
| # 0889-30A | Reinforcement KG Type14 convertable left |
| # 2693 | Adapter speedo cable Karmann Ghia (use# 2699-055) |
| # 7527-1 | Front inner door scraper left side Type 2 68-79 (VW Brasil) (use# 7527 + 7527-500) |
| # 7528-1 | Front inner door scraper right side Type 2 68-79 (VW Brasil) (use# 7528 + 7527-500) |
| # 0891-102 | Front wheel arch left Type2 73-79 VW Brazil (use# 0891-104) |
| # 0891-103 | Front wheel arch right Type2 73-79 VW Brazil (use# 0891-105) |

Price modifications are indicated on the pricelist itself!
Available to special order only

Following items are still available @ BBT but due to low demand they are now available as special order what might be subject to longer delivery terms.
 
| | |
| --- | --- |
| # 0499-254 | Sign NL 1954 |
| # 0499-255 | Sign NL 1955 |
| # 0499-261 | Sign NL 1961 |
| # 0561-53 | Sunvisors Type3 61-74 pair black/mirror |
| # 0608-102 | Orange lens for reversing light Hella |
| # 1078-495 | Exhaust tip T25 Synchro |
| # 1922 | Pulley cover, red |
| # 2101-000 | Intake manifolds Okrasa (pair) |
| # 2101-050 | Balance tube between intake manifolds Okrasa (set) |
| # 2188-6 | Crossbar linkage IDA T4 |
| # 2553 | Empi 8-spoke polished |
| # 5490 | Rebuild single port engine 1600cc - New |
| # 8711-05-020 | Allen key bolt M5 x 20 Din 912E |
| # 8731-04 | Sealed nut M4 Din 985 |
| # 9015-22 | Header bow 64-67 convertible (wood) |
| # 9677 | F4 Airstreme roofrack Type 1 |
New products
Window lifter
0362-550
T3 05/79-08/92
281 837 571
Perfect replacement window sash for your T25/T3/Vanagon door glass. This sash holds your window and is the connection between the glass and your window lifter. Sold each and fit all years of your square VW buses.
Doorpanel clip
0409-100
Beetle -59
N 014 389 1
Regular door panel clips (BBT 0409) fit all years door panels, however VW's built before 1959 didn't use the rubber cup to hold that clip and VW used another style (stronger) clip back then. BBT is proud to offer that clip here and now! Sold each and you will need 42 pcs to do door and rear qtr panels.
Door Handlees with keys - pair - Top Quality
0427-255
Bus 08/68-07/79
211 837 205N (x2)
The perfect set of cab door latches for your bay window ( all years except for 1968 model year) with matching key. Top quality easy comparable with new or NOS ones... happy we can offer another quality product!
Engine lid lock with key / Chrome TQ
0429-650
Bus 08/67-07/71
Type 181
211 827 503D
Many Bay window buses came out of the factory without a locking engine lid lock, other ones lost or broke the keys. We have the perfect new lock with keys now available. For both early and late model bay windows. Locking your bay window engine lid is just one screw away!
Cab door lock mechanism left
0436-400
Bus -12/60
211 837 015B
If they are not missing, there is good chance, that your old door locks are no longer properly working. These locks simply are not made for more than 45 years of duty! We give now the perfect alternative with these brand new door locks for all years of split window buses. Perfect fit, easy to install!
Seal fuel cap / screw model
0491-015
Beetle 08/70 -
1302/03
Karmann Ghia 01/72-
113 201 557E
Don't let damp your liquid gold because of a leaking gas cap seal! Replace that old scruffy or missing seal with our new ones, eliminate smells, and don't spoil that gas anymore each time you take a corner with a full tank of gas!
Rear hatch panel - grey
0552-160
Bus 03/55-07/63
221 867 611b
The perfect finish of your interior. The panel comes at the inside of your rear hatch under the window. It is really nice finished with a perfect fit and with a very close to original grain.
Jailbarkit rear window
0564-375
Bus5 05/79-08/92
The so-called 'Jail-bar' kits were available as an accessory from Volkswagen and standard on all Deluxe buses. They protect the side and rear windows of your van from luggage sliding around on the parcel tray just above your engine.
As a useful and cool 50's, 60's, 70's and 80's accessory they are really sought after. Really typical and period correct to dress up your T1, T2 or T3 van, complete it or make it original.
Different from the cheaper reproductions, the BBT 'jail-bar' kits are manufactured from high quality brackets and aluminium tubes, just like Volkswagen used to have.
All BBT jail-bar parts are pressure pressed aluminium, in popular terms this is called forged, exactly as Volkswagen used to make them (themselves). Forged metal is many times stronger than the cheaper cast reproduction parts. Our jail-bar mounting brackets are 100% made in Germany.
BBT supplies jail-bar kits for all models of classic Volkswagen vans, T1, T2 but also for T25, T3 or Vanagon. All kits are delivered including mounting material. Drilling some holes for the mounting brackets is necessary but simple.
Ignition lock with keys
0654-990
Beetle -10/52
Bus -03/55
111 905 801
You would be surprised how few split window beetles (or early buses) still have a working original ignition switch. Mainly because the key is lost or broken or it got stuck. With this cool reproduction you can revive most of the ignition locks and use again the original style ignition lock and starter button. Nothing can beat originality! Pure feelings...
Starter button, ivory
0659-001
Beetle -10/52
Bus -12/52
113 911 509
Push the button and the engine will start (if your ignition is on that is!) People, who are not familiar with split window beetles, definitely need an explanation how to start... although I like this kind of system. By the way most new cars with a keyless option have a starter button as well. Was VW so far ahead in time back then? ???? But... old starter buttons have been made out of a very weak type of plastic/bakelite and mainly didn't survive the test of times very well. Ah! Here we offer the perfect solution, perfect fit, perfect functioning! Replace that old worn out unit with BBT new starter button, and push happily to start that happily purring engine of yours!
Rubber for headlight adjusting screw
0665-200
-07/73
111 941 147
We go nuts about small details, but we can't get much smaller than this one! European style headlights had the headlight rim fixed to the glass, with the adjusting screws in the outer (chrome) ring. These small rubbers secure the headlight adjusting screw bracket to the assembly. Sold each.
Indicator switch, ivory
0666-005
Beetle -10/52
113 953 511
Split window beetles used a switch to operate the semaphores, which were centrally placed on the upper part of the dashboard, just below the windshield. Actually, the switch looks like mounted upside down, kind of weird. Well that switch is now available as a new part, and we, at BBT, are very proud, that we can offer this to you, to give your dashboard that nice complete new look! Many times broken, or simply missing, replace that old worn out, broken or missing super cool switch, and get the feeling how it must have been to operate the semaphores when your split window beetle was new! Easy to install (when the original hole is still around) .
Sill reinforcement left
0889-300
Karmann Ghia
141 801 131
The reinforcement rail is located in your sill, between sill and heater channel, and makes the car more rigid. It was initially designed for the Karmann Ghia type 14 convertible,  but all convertible need it, otherwise doors will not close nicely very soon after a restoration. But because we always want to improve our cars, we started to use these rails also in our coupés, with a nicer car and a longer life as a result… so you have to use them on your convertibles, and you can use in your coupés… that  is said…:)
A-Pillar, left
0892-040
Bus 05/79-08/92
251 805 053
Top quality replacement panels for the front corners (or A pillars whatever you want to call them) of your beloved VW bus. Collision, damage or rust? It's  no longer a problem, we have you covered! Very nice quality with a perfect fit!
Rear corner complete, left
0892-364
Bus 01/81-08/92
251 813 367A
Top quality replacement panels for the rear corners of your beloved VW bus. Collision, damage,or rust? It's no longer a problem, we have you covered! Very nice quality with a perfect fit!
Heater cable for walkthrough
0931-025
5750 mm
Bus 03/55-07/67
211 711 629C
Early buses with a walkthrough option have another length of heater cable, because of the repositioning of the heater knob against non walkthrough models. This is the perfect length cable for you T1 split window bus with walkthrough option, used from VIN no. 20-117902/ till end of production of the split window bus. Length is 5750mm
Bushing for steering column to floor
1370-725
Bus 08/67-03/74
211 415 617B
This center bushing holds the steering column of your early bay window nice in place. Perfect reproduction. It finishes the steering like it should and has a nice turning circle.
Hockey stick / Heavy Duty
1492-050
Beetle 08/60-
113 311 541C
Out of the competition world we had demand for a heavy duty hockey stick (the connection between your gear selecters and shift coupler). Any problems with your current hockey stick? This one can solve a LOT of trouble! Perfect fit, perfect finish!  Stronger as original, BBT approved!
Piston and cylinder kit 30 DIN Hp, 36 SAE - 4pcs - Mahle
1715-052
111 198 057B
Our voices been heard! Mahle brought back the 30 DIN Hp (that's 36 SAE Hp) Piston and liner kits. The CEO of Mahle being an avid vintage Volkswagen collector was for sure a good thing for this "revival"! 4 pistons and 4 cylinders to replace the old over used pistons and liners on your old engine! Gives your engine a second(or third life) and a happy future, there's no substitute for Mahle. Still the best piston and liners on the market. Back in the days that our beloved Vintage Volkswagens were manufactured, Mahle already was VW's supplier of these parts!
Crankcase breather tower / all WBX 1.9 & 2.1
1898-500
T3 05/79-08/92
025 115 451
Unfortunately the original breather towers on T25/T3/Vanagon have not been made out of everlasting material. The old plastic kind consists of a material that breaks pretty easy, plus the breather seems to be always in the way for something when you dismantle or mount the engine. We have a super solution with this brand new breather! Perfect fit and looks 100% like original.
Air Cleaner Oval Mesh 'Classic Style' IDF/DRLA 40-48 - Vintage Speed / filter = BBT 2156-01
2158-250
Classic Style Oval Mesh Air Cleaner Set for IDF and Dellorto Carburator 100% HANDCRAFT piece by piece. A Classic Oval Mesh Air Cleaner, with all the possibilities for vintage or performance engine air filter touch up set. This oval mesh air cleaner set is the final touch for your classic engine.
Dash pod trim
2682-000
Beetle -10/52
111 925 300
How many times we tried to fit that alu dashboard trim with a couple of missing tabs? We glued it, used adhesive, tape, You name it, one time we even screwed it! But never ever You can give that split window dashpoard the looks as with a nice installed dashboard trim. That small bezel alu trim around your clock and speedo dash posd that's neatly secured by its four all nice and present tabs. This new dashpod trim is all new, and offcourse has all four tabs, ready for the next 50 years...
Convertible top hold down latches, as pair
7140-000
Beetle -04/60
Karmann Ghia -07/71
151 871 391 + 151 871 392
If you open the hood (roof) of your (early) Volkswagen convertible, these latches have been used to secure that the top stays firmly down and don't dance the whole drive around... this is important to eliminate play on your hinges and rods of your top frame. But because this gives a lot of stress many of the original latches  have been rattled loose, plied, broken or are  simply missing. We now have the perfect solution with these brand new pair of top hold down latches, exactly like original, nicely chrome like original, and perfectly working for a real affordable price.
Buffer under front seat
7485-060
Bus 08/60-07/62
211 881 895
The base of a front seat in a bus is steel and the body too! This rubber buffers "isolates" the connection between the steel from the frame with the body to eliminate paint damage, scratching and "scraping" sounds. These buffers have been used on all models, panel van, window bus and pick ups… get yours now and ensure yourself that your seat is installed as it should be!
Rear window, no heating
8980-100
Karmann Ghia coupé 08/55-7/74
143 845 501
Replace that old scruffy, scratchy or broken window with our perfect stock reproduction. Window fits perfectly for your Karmann Ghia coupe of any year. 2 models to choose from, with or without heating.
BBT backpack
9970-000
Hike in style or place that bargain score at the swap meet neatly away. Take your study books or your lunch to school or work. Show your colors, BBT rules! A backpack in style!!! You would not believe how popular these backpacks are, we brought them back after so many inquiries! Don't miss out on this batch! Each batch has a different logo!