Newsletter April 2017 print
Preface
The nicest season is coming and we're ready, we already had  some sunbeams in Western Europe!  The sun makes you happy, certainly after these cold dark winter days…. Enjoy the sun to the full!
After a couple of years we can speak of a small revival on economic matters, even it is just frail, the unemployment figures are decreasing as well as the figures of poverty.  As we say it is still frail and fragile, but is always better something than nothing at all… Let's hope the tendency will continue.  A strong economy is always a good thing for our niche market.
Our first (cyber) achievement for 2017 has been executed.  A new host has been set up, that's quit a task and it wasn't without problems. Our online parcels service got to deal with some nasty problems, but defects got monitored and restored. We apologize for any inconvenience caused.  Nowadays it's back working very well… next step will be the introduction our new platform in April.  We're very excited, at this very moment not less than 9 different IT companies are working for us. That's quit huge for a SME, I should think so.  The cyber world has become a normal part of our daily life and that count's for BBT as well, though that should go well together... ;-) To be continued…
At the end of June we'll have our huge open house, bigger than ever. Followed the next day by our famous convoy to the Vintage meeting of Hessisch Oldendorf in Germany.  You're all welcome, of course.  All information can be found here.

The week after there will be the greatest VW nostalgia meeting that you can imagine with the European Bug In at Chimay (yes, the town of  the  famous trappist beer) and we'll be present there too.
We wish you a nice spring season, enjoy the sun and nature's fresh green… we're looking forward to the next months to come…
Keep the VW faith!
Bob
New BBT production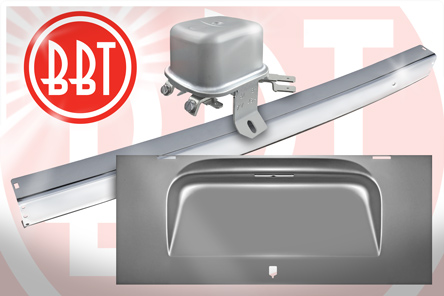 # 0013-956  Bumper rear T25 05/79-08/92 (chrome - w/o bumper strip) BBT
# 0157-460  Engine lid Type 2 08/67-07/71 BBT
# 1951  6 volt generator regulator BBT

Price modifications are indicated on the pricelist itself!
No longer available
| | |
| --- | --- |
| # 1532 | Gland nut HD 48mm |
| # 0438-274 | Enginelid support spring Type2 wide bed (21cm) |
| # 0443 | 'Cal look' script |
| # 0626-400 | Taillight bulb holder (single) Type 1 52-55 / pair |
| # 0645-53 | 'Taillight Type2 08/71-07/79 clear eco |
| # 1008-1 | Double muffler 'Quiet pack' |
| # 1013-01 | 4 in 1 collector for 1200cc |
| # 1610-075 | Main bearings 0.75/0.75 case |
| # 1614-0-20 | Main bearings std/ 2.5 case |
| # 2539-614 | Yellowline wall ring 14" (4 piece) |
| # 2620 | Autometer oilpressure 2 5/8 0-7B |
| # 2641 | Autometer mounting cup black 67 mm |
| # 2706 | Horn ring 'full moon' 66-71 / Chrome |
| # 6290-009 | Sticker L 568 |
| # 6290-030 | Sticker L 30 E |
| # 6290-048 | Sticker L 96 D |
| # 9338 | Book: How to restore Volkswagen Bus (T2) |
| # 9496-25 | Airmighty 25 |
| # 2811 | Steeringwheel Rometsch Type 2 -07/67 |
| # 4870-001 | Roof rack T1 chrome BBT |
| # 9922-001 | T-shirt Open house 2015 (Medium) BBT |
| # 9941-050 | BBT hoody Black (XXLarge) Male |
| # 0616-870 | Front complete turn signal left orange T25 05/79-08/92 Hella (use # 0616-871) |
| # 0616-880 | Front complete turn signal right orange T25 05/79-08/92 Hella (use # 0616-881) |
| # 0429-1 | Decklid lock W/keys T1 08/66-07/71 chrome / Original - TQ (use # BBT 0429-200) |
| # 0636-275 | Knob for hazard switch (non padded-dash) (use # 0636-2) |
| # 7540 | Felt channel front Type 2 68-79 (VWB) (use #  0349-1) |

Price modifications are indicated on the pricelist itself!
Available to special order only

Following items are still available @ BBT but due to low demand they are now available as special order what might be subject to longer delivery terms.
 
# 0118-1
Wing front right 12/1300 75- / original Mexico
# 0386-370
Tensioning hoop front for sunroof Type 2
# 0499-280
Sign NL 1980
# 1078-210

Exhaust pipe/engine & exhaust front T25
DH 01/83-07/85 & DJ 08/84-07/85

# 1286-2
Front brake drum 1302/1303 Golf
# 1290
Rivet for brake lining
# 1491-570
Gear box revised IRS Type 2 08/71-07/75 (002)
# 1811
Supplementary sump + 3.8 litre, without filter
# 1924
Pulley cover, gold
# 2573-5
Gasburner 4 x 130 - Black
# 2908-301
Headliner Type3 N.B. 63-67 non-perforated/white
# 5480
Rebuilt double port engine 1300 CC
# 9025-005
Boot cover Type1 49-62 burgundy canvas
# 9105-81
hood KG 69-74 brown canvas
New products
Bumper rear / chrome - w/o bumper strip
0013-956
Bus 05/79-08/92
255 807 311D
Our perfect quality (at least as good as OE more than likely  better bumpers for your T25/T3 Vanagon… the perfect bumper, with the perfect fit, the perfect pressing (with the right raising "line" in it) and in an OUTSTANDING chrome quality!!! Nothing beats the quality of OUR BBT bumpers, tell them BBT Bob told you!
Engine lid
0157-460
Bus 08/67-07/71
211 827 025F
When prices go ridiculous for used parts we, at BBT, try to step up and bring  a good reproduction on the market. Our philosophy is still when we make something it should be at least as good, or if possible even better than the original. So we're proud we can offer now a perfect reproduction of the engine lid for early Bay Windows. Classic stamped on our own private BBT tooling… this was not the cheap way, but the only good way… So now we offer you the perfect solution to replace that old scruffy, bend or rusted out original engine lid with this perfect fit extreme high standard replacement part for a perfect fit and finish. As all BBT privately manufactured sheet metal also this engine lid is finished in a weld through silver primer. Look for the small BBT quality sticker to ensure you bought the real deal!
Rear window louvre
0348-300
Type 3 Variant
Keep the sun out of your beloved car and give your car that smooth fifties/sixties look! After the immense popularity of the louvres for  Beetles, we decided to team up and bring these for the Type 3 owners as well! Fully adjustable guarantees a perfect fit!
Panel clips black T25/Vanagon - Multivan / Westfalia, each
0409-655
Bus 05/79-08/92
251 867 299 01C
Door panel clips for your T25/T3/ Vanagon… We already had these clips in beige color (BBT 0409-656) Now we offer the full color range. So all stock applications color wise are just a few mouse clicks away from your doorstep from now on.
Clip for coolergrill bottom
0412-340
Bus 05/79-08/92
171 853 695A
This really became a BBT part no. because of customer demand… This clip holds the lower grill from your water-cooled T25/T3 Vanagon, and the eighties incredible plastic will definitely brake upon disassembly. BBT gives you the right help here and offer them brand new as a standard item.
Lock set
0425-905
Bus 03/55-07/58
These lock sets are sold with the ignition lock as well as the key which fits all cylinders. So you need only 1 key to lock everything, to open your car and drive away just the way your bus left once the factory… Isn't that cool ? Standard included! So from now on no problem to lock your bus properly! Available for buses from 1955 till 1992.
Mounting cup for nose emblem
0440-125
Bus 08/67-07/72
211 853 615
When the nose emblem of your early Baywindow bus falls off, a big investment is gone, VW logos are rare and expensive since VW thought it was smart to forbid the sale of these logos on the aftermarket…..smart guys these Germans…:) So protect your precious VW logo with the right mounting cups and they  can't fall off anymore… Our mounting cups  fit as standard parts, exactly as original, sold each.
Fuel tank - Injection
0492-925
Bus 73-74
With the massive imports of US spec buses into Europe we're getting used to the fuel injection models for the later bay window. Problem with fuel injection is mainly to determine to the high pressure fuel pump (BBT ref 1686-200) and a dirty gas tank… because of the high flow these fuel injection gas tanks seem to cope with a huge problem as bitumen left slowly from the fuel used lately. Before we let gas tanks restore, but that's a quiet costly process, that can be saved now with our brand new fuel tanks made especially for fuel injection at a fraction of the cost. The largest difference between a "normal" bay window gas tank and a tank for fuel injection is the double connection (for the return fuel lines of the fuel injection)while for carbureted engines there's only a single connection. End of problems, as brand new fuel tanks are now available… for carbureted engines you can find fuel tanks under BBT ref 0492-918 & ref 0492-920, for fuel injection we present our brand new gas tanks here….
Glove box pushbutton
0515-090
Beetle 10/52-07/67
Karmann Ghia -07/67
Type 3 07/67-
111 857 131
Small "pushbutton" glove box door lock available now in a very nice quality. Fits all beetles made between October 1952 and July 1967. Many times missing or broken, this might help to keep that glove box door closed! We also have a locking type under BBT reference 0515-1
Emergency brake boot, black
0707-500
Beetle, Karmann Ghia 08/55-07/64
113 863 341A
Finally we got a new source for the early emergency brake boot, it's not Mother Nature's most beautiful but it does the job, and there's no beauty contest to win when your made for protecting an E brake handle of course…:)
Hinge front fresh air flap - each
0725-520
Bus 08/67-07/79
211 259 159
Seventies plastic was not  a long life UV resistant.  Pollution and age make old plastic yellow and cracky… as each owner of a Bay window bus wants to have his ventilation working, the demand for these clips are pretty large… we teamed up and had sourced it down… now available readily from our stocks!
Rubber stops for fresh air flap / pair
0767-500
Bus -67
211 817 145 (x2)
Your split window bus has the air vent on top of your head (upside down against the inside of the roof).  These little rubber buffers make that the opening and closing give a nice but no  rattling movement! Standard procedure to replace every time you take your air vent system apart….
Rear corner up to waistline / 82 cm /left
0890-362
Bus 64-67
Rear corner complete / left
0890-366
Bus 08/61-12/63
211 813 355
Rear corners for split window bus. Till now this was the most difficult part to develop, it went wrong twice and we received a serious lesson about radius from the belt lines from several top metal workers and welders. Also the radius below was a headache to get right. Furthermore to determine exact place and models for taillight was not as easy as the buses made for the USA have not always been changed at the same time like European ones or vice versa.Are we happy we can now supply the correct corner for your bus? You bet! This corner is not only the best fitting corner money can buy, but is also the most correct corner on the market! With all correct holes for your taillight in the right position…
Rear corner / 25cm / left
0890-369
Bus 55-67
Rear corner complete / right
0890-376
Bus 08/61-12/63
211 813 356
Rear corners for split window bus. Till now this was the most difficult part to develop, it went wrong twice and we received a serious lesson about radius from the belt lines from several top metal workers and welders. Also the radius below was a headache to get right. Furthermore to determine exact place and models for taillight was not as easy as the buses made for the USA have not always been changed at the same time like European ones or vice versa.Are we happy we can now supply the correct corner for your bus? You bet! This corner is not only the best fitting corner money can buy, but is also the most correct corner on the market! With all correct holes for your taillight in the right position…
Rear corner complete / right
0890-377
Bus 64-67
211 813 356G
Rear corner / 25cm / right
0890-379
Bus 55-67
Tube accelerator cable
0910-510
Beetle 08/67-07/71 & 12/75-
113 721 551
We have a new "flex tube" for you. It's actually the cable housing that sits above your tranny and guides your accelerator cable between chassis and engine. Many times your old part needs replacement because it's broken, bent or just missing… The old plastic has melted or broken off and  is allowing water to come in. Anyway, most cars need a new one and here we offer a super standard stock solution… This new one is for 67-71 model years beetle only, if you need one for a VW beetle made between 11/65 and 07/67 you can find under BBT ref 0910-500
Trailing arm left
1475-002
T3 05/79-08/92
251 501 401E
Finally we have the solution for the rusted out trailing arms of your T25/T3/Vanagon bus, brand new, top of the art reproduction! Almost all trailing arms are rusted out in Europe. So this new units will replace your trailing arms exactly like a new part for another many years of trouble-free motoring!
Mounting kit clutch fork original 20mm
1527-100
11/71-
113 198 026A
This mounting kit contains everything you need to mount that clutch fork as it was mounted since new in the factory. Get back that nice stock feeling as new with the perfect BBT clutch fork mounting kit.
Flywheel shim 0.24mm - 25-30hp (36 SAE)
1588-024
111 105 281
Early flywheel shims are different from later ones, actually there are three different flywheel shims, the very early (25 and 30 DIN Hp or 36SAE as you want to call it) after comes what we call the 6 volts, for cars originally made between 1960 and 1966 and the later "12 Volt" models. Flywheels shims are multi important to adjust the end play (or axial play in regards to your bearing to name it technically correct) on your crankshaft. This end play always has to be between 0,10 and 0,15mm. After more than ten years of searching we're very happy to add these early flywheel shims to our product line, so you can assemble that early engine of yours back again like it should!
Camshaft STD
1629-950
Type 1 -07/71
BBT is proud to present these brand new camshafts from an extremely high quality. These camshafts been made like they used to be made back in the day when VW still rolled the VW beetles and buses from the assembly line. Replace that old worn out camshaft with these brand new BBT state of the art cams. We cover both models for all VW engines from 1960 till today! We experienced the challenge to find a good cam for a correct price, don't let fool you with cheap inferior products, but trust BBT as a quality partner for your VW needs. Both  cams do fit a on allType 1 engines except 25 and 30 Din Hp (That's 36SAE for our American friends). For these early engines we supply cams under BBT ref 1629-90 and 91...
Piston and cylinder kit - T4 2000 cc - 94,00 mm- Mahle Brazil
1715-312
T4 - 2000cc - Ø 94 mm
Mahle proudly introduced the Type 4 2.0 liter piston and liner set into their aircooled VW program. BBT, being main European distributor for Volkswagen products of Mahle Brazil, we're happy to add  them into our ever-growing BBT range as well… Finally an affordable good quality solution to your tired Type 4 engine. Support Mahle, support quality.
Push rod STD aluminum 280mm - 1
1729-500
311 109 301A
Finally we have a good quality push rod added to our stocks. This push rod is made by a long time manufacturer with very keen eye to detail for quality and fitting. The correct hardness of the push rod ends is the major trick here! We've visited in person the factory, which makes these push rods  and we are impressed with the operation. So replacing your push rods has never been that easy since long time ago!
Regulator 6V, 35A
Mounting on dynamo
1951
Type 1
113 903 801F
We did it! We have again a high quality 6Volt voltage regulator for your beloved Volkswagen! We did produce our 6V regulator in Vintage Bosch style . We went even that far that the cap is interchangeable with your original Bosch cap! (Simply screws on and off) This way an 100% authentic look can be maintained in your engine compartment!
The inside is high-tech electronics but outside it looks like original. The high-tech electronics is top 21st century technology with a lot of safety devices built right in. So if you miswire our new regulator it will not work obviously, but it won't break either, short circuits are history here! Besides there are other devices against moisture and high temperatures . The new regulator is very proud to carry the BBT brand!
Dash clock
2674-550
Bus 03/55 - 07/67 Deluxe
241 919 201A
BBT teamed up with one of our American suppliers to take over European exclusive distribution for this neat little dash clock for your deluxe split window bus. These clocks don't just look great, they work great and they are great! The real deal… and the good about it is, that they do work on 6 and 12 volt together! Get yours now….
Central door hinge mechanism for slidingdoor (LHD)
7570-005
Bus 08/67-07/79
211 843 336C / 281 843 336A
First things first… the star of the week, after many investigations here we can present a decent central lock assembly for your Bay window sliding door… This is the part that breaks the most on sliding doors and our used stocks have never been that low as lately. So time for a new part and one that works.  This is a perfect quality part that will take away a LOT of your (sliding door) headaches…:) It will fit on all years bay window buses, originally there are two models but they are interchangeable…
Sliding door handle - Chrome
7570-085
Bus 08/73-07/79
211 843 703P
The same manufacturer as the sliding door central lock delivered us also this state of the art sliding door outside latch. This latch suffers many times from bad chrome. You never can re-chrome your old one for the price we sell the new one. This is a fairly inexpensive top product to exact factory standards, get yours now!
Pin for check rod / -ch 217 2137 042
8055-200
Bus 08/67-77 (-ch 217 2137 042)
211 837 257A
Brand new pins for your Bay window door check rods… a perfect standard product for a better than stock finish for your door… replace that old scruffy (or lost) pin with our top quality reproductions!
Decal kit for FRAM oil filter kit
9500-100