Newsletter April 2016 print
Preface

A couple of days ago there were these horrible bomb attacks in Brussels and now I'm taking the time to write the preface of the spring newsletter. Deeply moved by the incidents so close to us ….In the first place our sympathy goes to the victims and their family, the stranded travelers and everyone who went through this misery … shame on you IS, all this suffering to innocent people!  This has nothing to do with faith nor conviction, it's a downright crime!

I was listening with incredibility to the political debate which took off. Some scapegoats must be assigned and we will know … anyway… isn't that exactly what those terroristic idiots aim at after all ? Destabilizing our society ? It would be a good thing to join our forces on political and diplomatic matters. Then we would really show that senseless acts of violence have no use.

The stock market (except for the airline companies) reacted in a tranquil way. That's good thing… don't make it undermine our economy!

Let's all take an example to our wonderful Volkswagen world… plenty of friendship and fellowship… and with the new season coming (collection cars drive just more during the summer than in the winter period). BBT is ready for a great challenge to supply all the necessary parts to our customers.  Our purchase department is making a great job !

Let's enjoy spring time, with splendid weather and marvelous cars!

Keep your (VW) faith!
Bob
New BBT production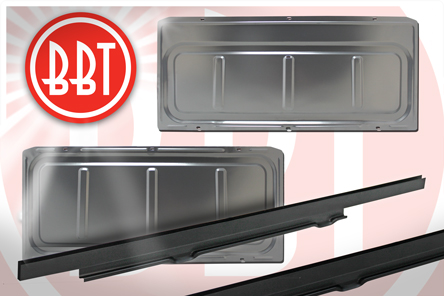 # 0362-700  Window sash left Type1 -09/52
# 0362-710  Window sash right Type1 -09/52
# 0890-775  Divider panel for fueltank compartment Type 2 pick-up -07/60
# 0890-776  Divider panel for fueltank compartment Type 2 pick-up 08/60-07/66

Price modifications are indicated on the pricelist itself!
No longer available
| | |
| --- | --- |
| # 0492-110 | Fuel tap Type1 55- (8mm) |
| # 1025 | Bobcat exhaust for mid-engine chrome |
| # 1493-500 | Transmission case Rhino |
| # 1596-1 | Starter 6 Volt -65 |
| # 1602-06 | Chevy Rod bearings 0.10" |
| # 1614-025-21 | Main bearings .25/2.5 case |
| # 1615-050-20 | Main bearings .50/3 case |
| # 1691-100 | Billet fuel pump block off (Bugpack) |
| # 1963 | Remanufactured 6 volt generator |
| # 2539-813 | White/redline wall ring 13" (4 piece) |
| # 2675-10 | Dash top padded section T2 68-79 black |
| # 5580-FAT | FAT Performance motor 1776cc (complete) BBT |
| # 7810 | Quarter window seal callookT3 FB.65-74 |
| # 7816 | Quarter window seal Calllook T3 NB 62-74 |
| # 9361 | Book: The dune buggy Phenomenon 2 |
| # 9496-PO-13 | Airmighty Portfolio 2013 |
| # 0372 | Window scraper conv. -52 /meter BBT |
| # 9921-002 | T-shirt Pin-up + Hebmuller (Large) BBT |
| # 9921-003 | T-shirt Pin-up + Hebmuller (X-Large) BBT |
| # 0616-51 | Turnsignal lens right T2 8/63-7/67/orange use # 0616-53 |
| # 0638-200 | Battery 12V 45Ah/220 use # 0638-201 |
| # 1715-050 | Piston and cylinderkit 30 DIN Hp (36 SAE) - (4pcs) - AA performance use # 1715-052 |
| # 9336 | Haynes Manual T25 82-90 use # 9390-150 |

Price modifications are indicated on the pricelist itself!
Available to special order only

Following items are still available @ BBT but due to low demand they are now available as special order what might be subject to longer delivery terms.
 
New products
Window sash, left, each
0362-700
Beetle -09/52
111 837 571
The metal profile of the window sash clamps the window (with a rubber in between), this gives the fact the metal "sash" frame is under tension for whole of its life. Metal that's under tension wear out, as simple as that... call it "metal tiredness"... so after enough years of service the tension will fade from your window sash, mainly because of corrosion at the ends (that's where it starts mainly). Your window will not go down nicely anymore, will hook and turn... time to change the window sash... and now readily available at your nearest BBT dealer!
Cargo door large lock mechanism with locking knob - repro, Grease before use!
0436-510
Bus 03/55-07/67
211 841 605D
Is the lock mechanism of the cargo doors (swing doors) of your split window bus (55-67) missing or broken ? No problem, we offer a good alternative that even works. No high quality, just a spare part, but it's better than nothing at all. The locking knob at the inside can be ordered separately under BBT ref. # 0524-510.
Collar window crank - for BBT 0518 / 0518-200 (each)
0518-855
08/69-
111 837 595A
This buffer behind the window winder prevents damage to the upholstery of the door panels. It's important to install it between door panel and window winder, in the way they used to do in the factory.
Center piece rear jailbar
0564-16
Bus5 05/79-08/92
255 853 445
This is the missing part of our complete jail bar collection. The center piece keeps de jail bars at the rear window together. The distance is too great for assembly without centerpiece, otherwise the jail bars would miss their effect….
Fuse holder for 1 fuse - 3mm lead
0662-465
111 937 039A
Fire caused a by short-circuits can be prevented by fuse protection of the electricity. We have seen it enough, all electric appliances installed in your Volkswagen (or any other car/motorcycle), should by properly protected, such as USB chargers, GPS, cigarette lighters, radio or any other HiFi equipment, just name them, this loose fuse holder can be helpful and isn't even expensive. We like to contribute to your security as well as of your passengers.
Inner rear corner repair, left
0858-100
Beetle -07/67
Finally we've succeeded to find the correct repair part for the inner rear corners of your early beetle (built before July 1967). It's considerably different to more recent models.
Inner rear corner left
0877-200
Beetle -07/67
111 801 201 E/J/M
Finally available! The correct (curved) inner rear corners (for under the rear seat) for Beetle built before July 1967. Delivered complete in the correct fit that will simplify restoration.
Complete front inner left wheelarc, reproduction
0879-200
Beetle -67
These inner fenders do fit all years from June 1960 ... till end of production for all beetles with regular front axles (not for 1302-03 super beetles) The main feature is they don't have a gas flap hole and neither a brake fluid reservoir holder what makes it much easier for a repair or restoration from a Pre 1967 beetle! Bumper brackets are the late (outside) model, but our BBT ref 0829-1 will fit perfectly to this and finish of your total like a very cool piece of labor!
Divider panel for fueltank compartment
0890-775
Bus -07/60
261 801 711
Always dreamed to finish your single cab split window pick-up truck like it should, but you're missing the fuel tank compartment divider metal in your treasure chest (under bed loading room) ? BBT brings you these very nice quality fresh pressed perfect fit panels to finish your truck into the smallest details... Exact reproductions made from cherry originals...we press both years, both models, (yes there are two different models!)
Front floor pan
0891-135
Bus 08/67-07/72
211 801 051K
Complete floor pan for cabin of your early Bay Window (T2a) built between August 1967 and July 1972. From the left to the right, just like it was built in the factory. Perfect restorations require top quality parts. This front floor pan assures a top restoration!
Nut on radius rod (front)
1378-560
Bus 05/79-08/92
N0110231
This specific nut is essential for the assembly of the radius rod on your T25/T3 bus. We have them available in a nice quality.
Dampring for suspension spring Super Beetle, each
1386-200
1302/03
113 411 211
Original spare part. This damp ring prevents whistling or creaking of spring will whistle upon direct contact with spring retainer of your Mac Pherson support.
Heavy duty side plate for IRS transmission case
1493-450
Beetle 1302/03, Karmann Ghia 08/68-
When a lot of torsions come to your transmission this HD side cover is no luxury. Especially with high performance engine or during off-road sessions there is an incredible torque power on the transmission housing. This cover helps to reinforce, and so saves that transmission. a must for everybody that is thinking for a serious engine tuning, or want to drive wild!
Elbow for alternator air exhaust 55Amp
1967-500
Type4 -07/74
021 903 655B
Alternators for Type 4 engines have a gummi elbow to prevent overheating of the alternator. Originally these elbows were of poor quality, resulting that most of them are hardened, torn or even completely lost. BBT brings an appropriate solution with this high quality reproduction.
Rotor for distributor cap high (TQ)
2007-250
08/69-
055 905 225B
BBT brings you finally a rotor for your late-model Beetle in original quality, or more likely even a notch better! This is real BBT quality we use on our own cars! No substitute!
Ignition coil Beru, 6V with clamp (German)
2052-250
111 905 105H
There was a time that Bosch was the only brand for the electricity of your engine. Unfortunately due to many foreign and cheaper productions, the Bosch quality got worse. We now have the BERU alternative for you, high-quality, also made in Germany… and it is the brand that we use on all BBT vehicles., if we may say so to our entire satisfaction. Beru works and Beru is strong! Highly recommended on behalf of the BBT team!
Valve adaptor for inner tube in 5-lug wheel (1)
3990-100
Original 5-lug rims have a large valve lug. This "valve adaptor" is essential to replace the inner tube with modern valves on the original rim…
Side window seal with ventwing, TQ
7507-100
Bus 08/67-07/79
271 845 285
Buses destined for US market use to have several vent wings in the rear and middle side windows. Temperatures are quite high at the west coast and people could afford the luxury of some cooling (contrary to for instance Italy or Portugal where the price was more important). As many Bay window buses are now imported from the USA we have taken this seal into our assortment so that restorations can be executed in an authentic way.Fitting instructions. Click
HERE